I've wanted to have a mobile place to keep my crafting paraphernalia organized, yet easily at hand for a while now. Due to our 2 story house at the time, it wasn't very feasible. The apartment we are in right now is all one level and the house we will be moving into soon is also all one level, so a few weeks ago I decided to finally go ahead and buy this 3-tiered cart to organize my craft supplies.
Also, my mom was getting tired of my leaving projects and crafting supplies all over the coffee table.
My initial plan was to use IKEA's incredibly popular Raskog cart. However, every time I went to my local IKEA to try to buy it, they were completely sold out (even online). After a few months of this, I gave up on the Raskog and decided to go with my second choice: this (almost identical) Lexington cart from Michaels in grey.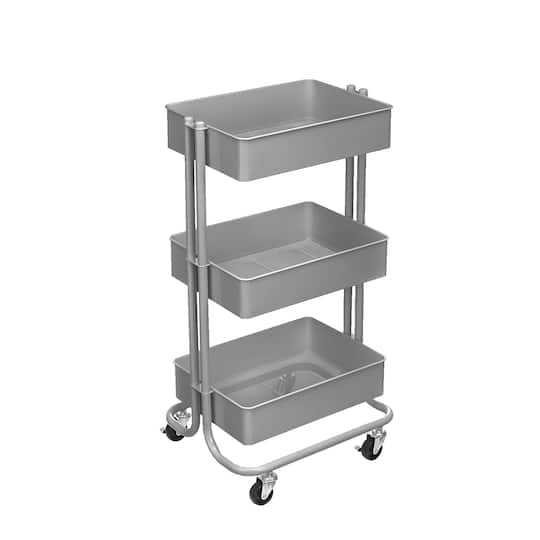 A quick note about trying to buy this with coupons: When they lowered the price of the carts, they did so by making it a permanent "sale". Because they are keeping it as a sale item, coupons can't be applied. Just a heads up so you won't get to the register and wonder why that 50% off one item coupon won't apply. 🙂
I assembled it fairly quickly (less than 20 minutes). It doesn't require any tools to assemble, except for the small special wrench for the wheels that comes included in the box. After I had it all assembled came the fun part: organizing the tiers.
For the first tier, I put all the supplies I would need frequently and easily at hand such as:
My jar of ergonomic crochet hooks. These are stored upright in a 16 oz mason jar. I also put my pair of yarn scissors in this jar.
All of my steel hooks went in a small grey zippered makeup pouch.
My cable and tapestry needles, these went in a 4 oz quilted Ball jar.
Safety pins, these went in another 4 oz jar.
My button jar pincushion with pointed yarn needles (tutorial for mason jar pincushion lid available for free HERE).
Small container of sewing pins
My tape measure
Tube of Fabric Fusion
On the second tier, I placed my sewing kit and my box of safety eyes + noses.
For now, my iron and sewing machine oil are living in the third tier, but this might change in the future.
I am so glad I finally decided to go ahead and do this. The cart makes it convenient to wheel into the living room and have all of my necessary supplies within easy reach. It's the perfect height for next to the couch, as well as next to my desk where it lives when not in use elsewhere.
This cart is for my tools and what ever project I'm currently working on. My yarn, fabric, and craft books I still store in a bookcase which you can see in THIS blog post from a few years ago.
How do you organize your crafting supplies?