Free patterns have come a long way from the days of patterns printed on yarn bands and there are now many sites that cater specifically to publishing and / or sharing free patterns, both knit and crochet along with many wonderful designers who are generous enough to share their creations for free.
I haven't bought a pattern in years because there are too many free patterns on my to make list.
Today, I'm going to share the best places to find free patterns for both knitting and crocheting.
Some of these sites cater exclusively to free patterns and some also offer patterns for purchase. All of the sites mentioned on this list have significant quantities of free patterns in order to be on here.
The sites that are listed here are listed here in alphabetical order, there isn't one site that is "better" than the others and each of the are good in their own way. I will also note if creating an account is necessary to view the patterns or not.
Be sure to follow for more yarnbending content and on Instagram @yarnbending.
Without further ado, here are some of the best places to find free patterns for both knitting and crochet. Let me know what your favorite source for free patterns is and if there is a site(s) that I should include on this list.
The Best Websites To Find Free Patterns:

All Free Crochet – allfreecrochet.com
As its name suggests, All Free Crochet and its sister site All Free Knitting (allfreeknitting.com) are database sites dedicated to sharing free patterns.
Some patterns are available directly on the site and some are like Pinterest and link back to the designer's site for the pattern.
Anyone can browse their database and access the patterns without creating an account, although you will need one if you want to save patterns for later or list a pattern. It is free to create an account.
Note: these two sites both have a very high number of ads and popups, and I've found it can slow down on some browsers.

Crochet Patterns Galore – crochetpatternsgalore.com
This is also entirely dedicated to collecting links to free crochet patterns with their sister site Knitting Patterns Galore (knittingpatternsgalore.com) being dedicated to free knitting patterns. This site refers back to patterns on the designers site, no downloads are available on the site. No account is needed to search and view patterns. You can search for patterns by difficulty level, yarn type, category, and more.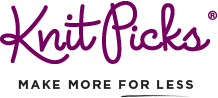 Knit Picks – knitpicks.com
In addition to their affordable (and ethically sourced) yarn, Knit Picks also offers free knitting and crochet patterns. No account is needed to search, view, or download their patterns.
LoveCrafts – lovecrafts.com
Formerly two separate sites (Love Knitting & Love Crochet), Love Crafts offers both free knitting and free crochet pattern downloads. No account is necessary to search, view, or download patterns.
They do also have patterns available for purchase.
Pinterest – pinterest.com
Ah, the time suck that is Pinterest. I personally find that Pinterest can sometimes be a tricky way to find patterns.
There isn't really any way to narrow search results like there is with the sites mentioned above and there is no guarantee that the patterns will be free, but it can be worth it. I have found a number of patterns this way and it's also good for inspiration. And a way to kill time.
You do need an account to search and save items on this site, but you can also use your Google / Gmail login.
Ravelry – ravelry.com
Ravelry is to yarncrafts as Goodreads is to books. With over 9 million members Ravelry is one of the biggest databases for any and all things fiber.
This site caters to both knitting and crocheting, but does have more knitting patterns (approx 600,000+) than crochet patterns (approx 400,000)
Their pattern database consists of almost 300,000 patterns available for free. In addition to their free patterns, they also have over 500,000 patterns available to purchase from designers. You can narrow search results using filters, including: craft, yarn type, yardage, language, difficulty, and more.
You do need to create an account to access the patterns, but it is free to do so and to use the site, you only pay if you buy a pattern.
You can save patterns to a queue for later and also share photos of the items you make from patterns.
Yarnspirations (the parent company that owns Bernat, Caron, Red Heart and many other well known brands) offers both knitting and crochet patterns of all kinds and difficulty levels for free on its site.
No account is required to search or view patterns on Yarnspirations.
All logo images are property of their respective owners.
This post first appeared on yarn-bending.com.
Copyright 2021, All Rights Reserved.