Winter comes a close second and is my favorite candy holiday, but Fall is my favorite season by far. Every year when Fall finally decides to stop over in the South, I feel energized and productive. Which is great, since Fall is the start of my busiest time.
There are just so many things to love about Fall: the foliage, the temperature, the clothes. Daylight Savings Time ending (I love it when it gets dark early). And of course, the quintessential Fall dessert, flavoring, scent, and decoration: pumpkin.
Pumpkin tangent:
I generally like pumpkin and will eat almost any pumpkin dessert, whether it's pumpkin bread, Costco's famous pumpkin pie, pumpkin cheesecake, and the list goes on. I even like savory pumpkin items such as soup.
Notice that I said almost, for there is one pumpkin flavored (if you can call it that) thing I absolutely can't stand and that is the (for some reason) famous Pumpkin Spice Latte from Starbucks. Shudder. Let me know in the comments whether or not I'm alone in my distaste for this strangely popular drink. The closest I come to pumpkin spicing up my coffee is with whipped cream and just a whisper of cinnamon (can you tell what show I've binged watched in quarantine?).
Tangent over, and now back to the scheduled post and the reason you're here.
Since pumpkin patches and hayrides are probably cancelled this year, today I thought I'd do a roundup of my favorite pumpkin patterns so you can make a pumpkin patch of your own!
You may be saying "that's ridiculous, I'm only going to make one or two!". And then I would have to laugh because, trust me, you will end up making more than one or two. They are strangely addicting to make and sort of like potato chips in that once you start, it's hard to stop after a few! I personally prefer making pumpkins over Halloween themed decorations because pumpkins can be displayed through November instead of just October.
You have been warned.
This list features a mix of both knit and crochet patterns. There is no particular method to the order these patterns are presented in, I like them all equally.
All pictures, unless otherwise stated are the property of their respective designers.
Teeny Tiny Pumpkin (free pattern) – Repeat Crafter Me
This is the pumpkin pattern that got me started making pumpkins. It's a very easy pattern and is easy enough that I used this to teach a fall themed beginning crochet class to a group of homeschool students a few years ago. It produces such cute results that a student stole my example pumpkin after the class.
Spicy Knit Pumpkins (free pattern) – Red Heart / Yarnspirations
Yarnspirations has a crochet version of this available for free as well.
Rustic Farmhouse Pumpkins (free pattern) – MJ's Off The Hook Designs
I love the colors used in this palate and also the use of cinnamon sticks as stems.
Knitted Pumpkin (free pattern) – Nimble Needles
I love the details of this pattern! On the same website there are also directions on how to turn the finished pumpkin into a Pumpkin Monster ala The Peanuts.
Wrong Side Knit Pumpkin (free pattern) – Angie + Brit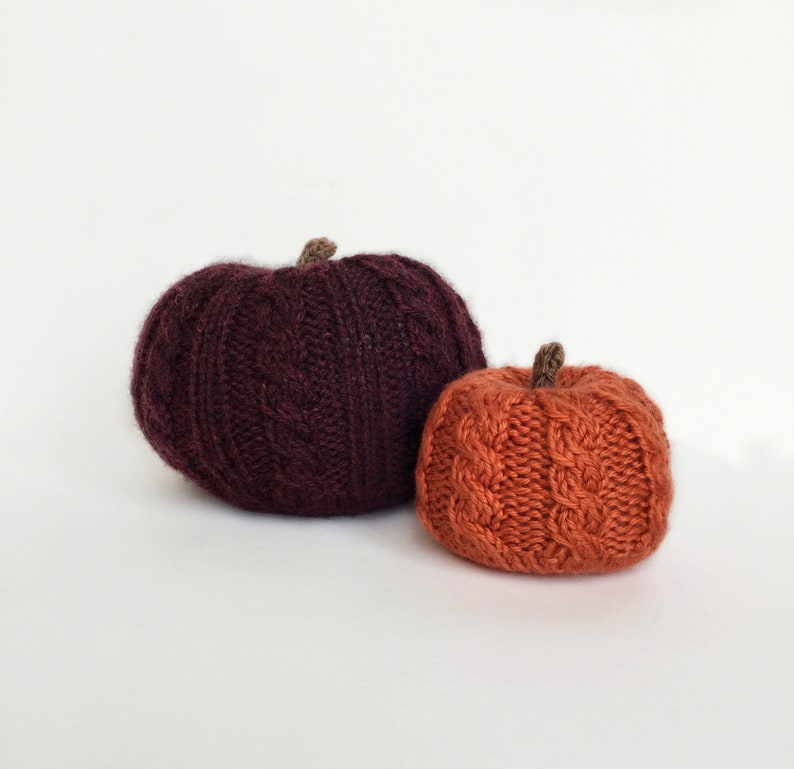 Hello Gourdgeous – AshCristine Designs
I really like the cable and ribbed design of these two pumpkins. It's also a great way to practice cabling.
That's it for this pumpkin patch post (say that 5 times fast), let me know in the comments which ones were your favorites and if there's a pattern I've left out that you really like.